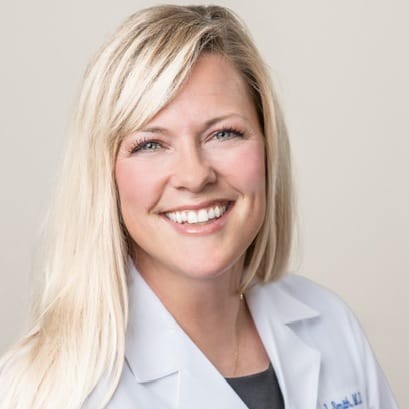 Dr. Smith's specialties include endocrine surgery, thyroid surgery, pediatric ENT illnesses, vascular anomalies, facial pain and headache, sinus disease, throat disorders, allergies, head/neck cancer, and sleep apnea. Chelsey Smith MD completed her undergraduate at the University of Arkansas at Fayetteville where she played volleyball for the Lady Razorbacks.
After earning her medical degree from the UAMS College of Medicine, Smith completed her residency and served as assistant attending physician of otolaryngology – head and neck surgery at the University of Oklahoma Health Sciences Center. Her fellowship in head/neck surgery and facial pain was at the University of Arkansas for Medical Sciences.
Chelsey Smith MD is a member of the American Medical Association and the American Academy of Otolaryngology – Head and Neck Surgery and has served on its national committees for plastic and reconstructive surgery and media and public relations.
Her husband, Chase, is a native of Dothan, AL and they have three children.  They love spending time on their family ranch and riding horses.
I will never be able to thank Dr. Chelsey Smith MD enough! She discovered I had cancer comforted me, went through treatment options with me, told me exactly what to expect. She and her staff provide the best care and concern! Dothan, Alabama has is fortunate to have her!
Name: Dr. Chelsey Smith MD

Residence.             Dothan, Alabama